Feed the Hungry, Give to the poor, help the lost and forgotten.  Christmas is a time to share with our hearts, mind and giving.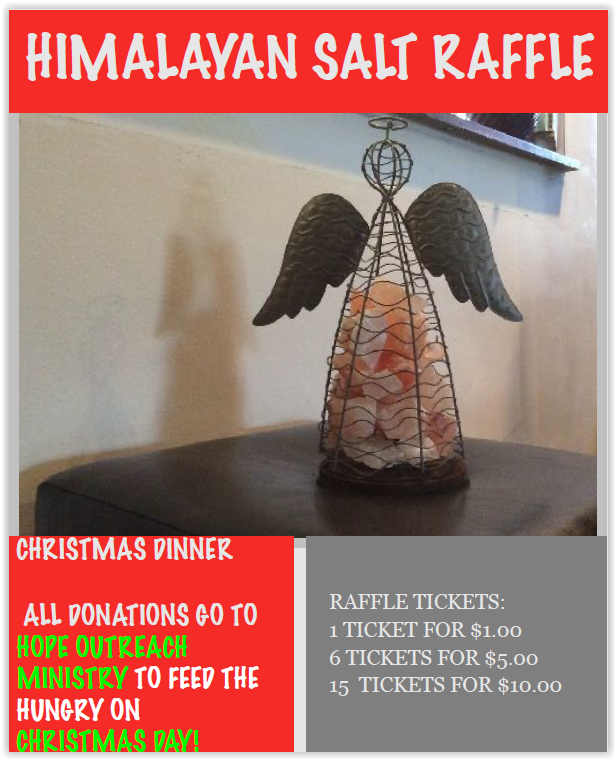 RAFFLE:  Cave-ation, Himalayan Salt Cave is raffling off an ANGEL to help with a CHRISTMAS DINNER at HOPE OUTREACH MINISTRY. 
Tickets are on sale at the desk of Rising Sun Holistic Choices.  The drawing will take place on December 21, Thursday.   You do not need to be present.  All donations will go to Hope Outreach.   Tickets are 1-$1.00, 6-$5.00, 15-$10.00
FOOD DRIVE :   Rising Sun Holistic Choices is hosting a food drive for a CHRISTMAS DINNER to feed the needy at HOPE OUTREACH MINISTRY.  Please feel free to bring in any non perishable item into Rising Sun Holistic Choices and drop off in our Food Drive box.  You may drop off any time during desk hours or whenever you have a session.  Every little thing counts, so please participate with whatever you can do.
THANK YOU IN ADVANCE FOR YOUR THOUGHTFULNESS AND CONTRIBUTION TO CHRISTMAS DINNER.
HAVE A BLESSED AND MERRY CHRISTMAS.