Catherine MacTurk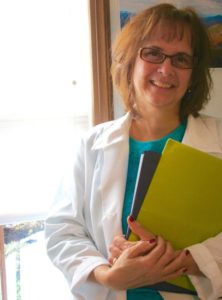 Catherine MacTurk, RN
Certified Natural Health Professional
Certified Emotion Code Practitioner
"The Natural Nurse"
330.280.2726
Call or Text
Catherine has been a Registered Nurse for over 30 years.  She has worked in a hospital setting for 16 years in the Washington, D.C area, in the areas of Medical/Surgical Nursing and Critical Care Nursing which combined SICU/MICU and CCU.   She moved to the Canton, Ohio area in 1999 and started to become involved with complementary and alternative medicine.  She became Level 1 Certified in the BIOSET Allergy Elimination Technique in 2002.  With a move back to the east coast from 2003-2007, she continued to study alternative therapies and techniques.
Catherine worked in a natural health store in Canton, Ohio for 2 ½ years where she was able to learn more about the Natural Health field, as well as educate others.  She went on to become a Certified Natural Health Professional in 2013. She began using bio-communication scanning as a tool with her clients in 2013, and has been able to help clients identify areas in their lifestyle and health that may benefit them to look at more closely.  She has also incorporated other complementary and integrative modalities to help her clients.  In 2015 she was trained in "Hot Rockin' Reflexology" using the Integrative Reflexology® Method.
Her continuous education and exposure to complementary and alternative medicine, along with her Nursing knowledge and experience, has put her in a position to help others integrate these modalities, with Western medicine, into their own wellness practices.
Catherine has been able to share knowledge and educate others, in a positive way, on their journey to "chronic wellness."
Please feel free to call or text if you would like an appointment or have any questions.    Thank you
Services Provided:
General Wellness Advocate
Himalayan Salt Foot Scrubs
Reflexology
Reiki Master
ZYTO Scanning – individuals and group scanning available
Bio-energetic Scans for your body's preference for:
§      Foods
§      Essential Oils
§      Tree and Flower Essences
§      General Wellness and Balance (organs and glands included)
SERVICES:

Wellness Consultations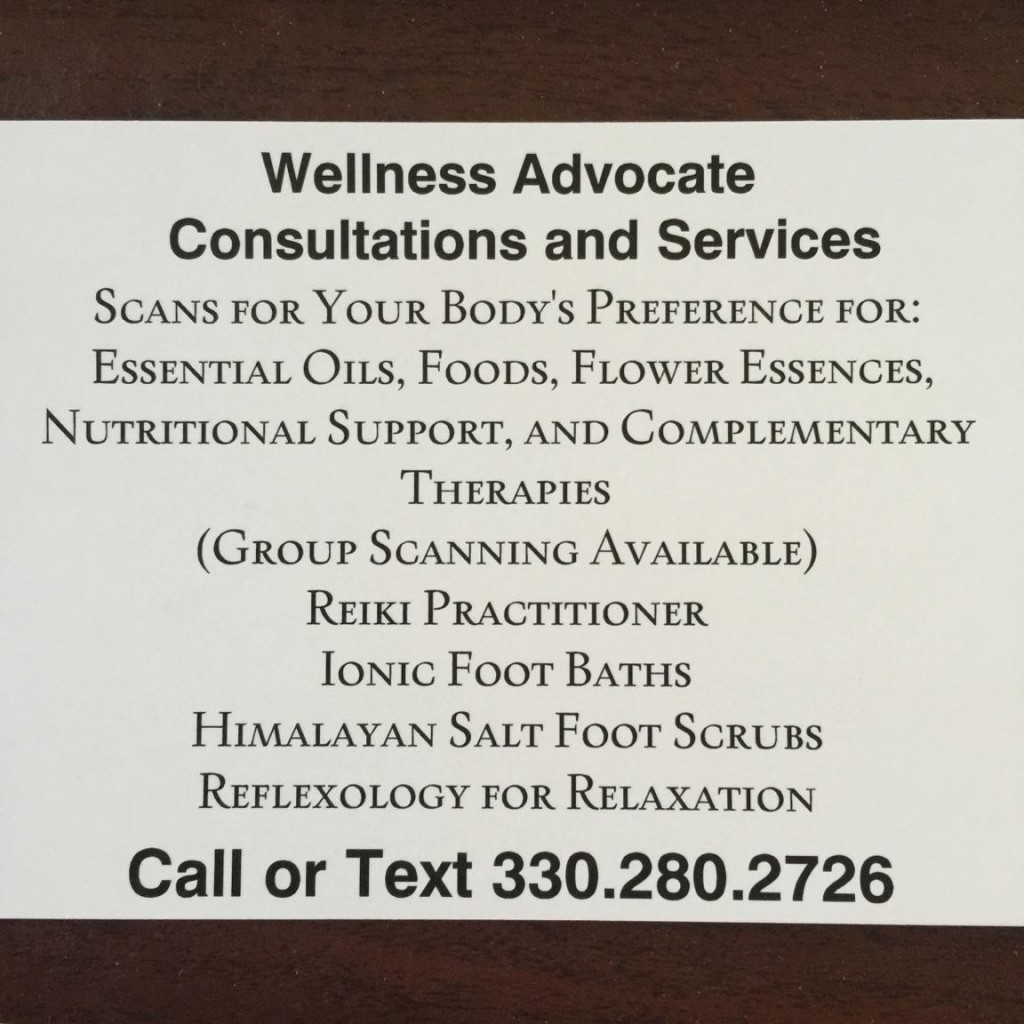 Varies on client's needs.
Call for pricing.
Services Scan: $15.00
Not sure what services to use at Rising Sun?   Get a scan to help in your decision.  We can scan for your body's personal preference for which services you may most benefit from, in order of priority for your body.
Essential Oils $20.00
Food Trigger List $30.00
Nutritional Support with Consult $75.00(up to 1 hour)
4-6 week Follow-up scan $45.00
Flower Essences with Consult $30.00
Aqua-Chi Ionic Foot Bath w/Essential Oils Application
$35  – Initial session
$30 – each for regularly scheduled sessions
$100 – package of 4 sessions
Foot Reflexology with Essential Oil application
$65 – 1 hour session(includes time for foot soak at start of session)
Aqua Chi Detox Footbath followed by Foot Reflexology with Essential Oils                                            
$65 Combination – 1 hour session
Himalayan Salt Foot Scrub with Essential Oils

$65 Combination – 1 hour session
---
Emotion Code Introductory Offer:
"Traumatic experiences can cause emotional and spiritual damage and even lead to disease and death if not addressed."    Ty Bollinger, The Truth About Cancer.
Release the emotional baggage from your body that may be causing a wide array of both physical and emotional symptoms.   The founder of The Emotion Code, Dr. Bradley Nelson, discovered that Trapped Emotions are the most common cause of imbalance in the body and mind.
This is a very simple technique which uses applied kinesiology (muscle testing) to identify each individual emotion, and using a magnet over your governing meridian to release these emotions from where they may have lodged in our bodies, which disrupt our body's energy field. This technique has been very helpful with physical pain, anxiety, panic attacks, fear, and many other disrupting emotions.  A session can last from 25-45 minutes.
Try an introductory session today.
$30 per session – introductory offer
 
---
The BIOMAT is here!! Advanced Far Infrared Therapy!
Enjoy the Technology used by NASA with the deep penetrating benefits of Amethyst crystals, Negative Ions and Far Infrared Rays, alone or in conjunction with your treatment sessions!!
Call today for an appointment!! 
330-280-2726
---
Current Specials:
Aqua Chi Detox Footbath followed by Foot Reflexology with Essential Oils                                            
$55 Combination – 1 hour session   – Through April.
---
NIKKEN PiMag Waterfall is now available at Rising Sun Holistic Choices!
Do you know what's in your water? You can now have filtered, remineralized, magnetized, and alkalized drinking water.

Features of the NIKKEN Waterfall and Sport Bottle:
~ Advanced Filtration – Meets or exceeds ANSI/NSF 42 & 53
~ PH levels of 8.5-9.5
~ Special ceramics add minerals to water
~ Magnetized/Energized
~ Easy to use and maintain
~ Cost Effective
Affordable, clean, safe, healthy water. Cost is $284.47 – shipped to your door!
For more information, contact Catherine MacTurk at 330.280.2726 (call or text) or integrativeadvocate@yahoo.com
Link: http://NIKKEN.com/cmacturk
Updated 3-31-2017 subject to change