Cheryl Voiklis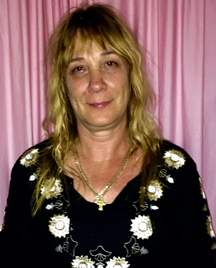 Cheryl Voiklis LMT
Grecko Rose Therapies
330-268-5034 (by appointment only)
Availability: Monday 9 am-7 pm,   Tue 10 am-6 pm,  Wednesday 9 am-7 pm,  Thur 10 am-6 pm,  Friday 10 am-6 pm,  Saturday  10 am-5 pm
Cheryl is a 1996 graduate of Ohio College of Massotherapy and has been in practice and licensed by the Ohio State Medical Board since that time. She has been affiliated with Massillon Chiropractic and does Deep tissue work on problem areas learned in this clinical setting.  A spine in alignment is one of the keys to optimal good health!
Cheryl draws on many life experiences as a mother and grandmother.  She has had the great gift of being part of the family team to take care of members who were in crisis with cancer and wheel chair bound journeys.  These life experiences have inspired and encouraged her on many levels with her own path.  She works with the firm belief in a universal loving and healing energy connection available to and for everyone.
-Believe in doing great work.  The key is to trust your heart to move where your unique talents can flourish. This old world will really spin when work becomes a joyous expression of the soul.   – Al Sacharov
SERVICES offered at this time:
Hot stones – Enjoy a massage using warm smooth stones to glide and rest on the body.  The stones are used to further relax and coax tired tight muscles to unwind.  While especially nice during cold winter months – this service is available all year round.
$10.00 extra with massage
Massotherapy –  Relaxing full body massage done on a table and discreetly draped.  Focusing on problem areas but ddressing both upper and lower extremities.  Reiki is usually incorporated over a problem area helping to facilitate relaxation of muscles in that problem area.  Cheryl tries to adjust to comfort level of each individual.  – $40 /half hour, $65.00 hour, $85 1.5 hours
* Specific essential oils can be used to help address different issues on a physical or emotional level.  The oils will raise your vibrational energies w their own frequencies and will uplift and heal.  $10.00 extra with massage
Work Day Clinical Masssotherapy –  Fully clothed session either on a table or in a massage chair.  This session is based on  problem areas only.  Usually focused on neck and back lasting approximately 15-40 minutes. $1/minute – minimum of 15 minutes for a session please.
Reiki II – This the Usui Shiki Ryoho method of energy work originating in Japan centuries ago.  This is a fully clothed session on a massage table.  This is a series of hand placements over various chakra centers of the body.   Approximately a 40-50 minute session that helps to channel universal healing energy and calm the nervous system.  -$55/session
Rain Drop Therapy – This session is done on a massage table fully draped.  Using pure essential oils to align the body in both the physical and emotional levels.  The oils are dropped on the feet and spine in a specific order and manner using massage to bring about a feeling of peace and calmness and create an environment for much healing to happen.    This is approximately a 50 minute session  –  $75/hr using Young Living Essential Oils
Emotional Release Therapy – This is an essential oil therapy that is useful in the release of any negative energies on the emotional level such as anger grief and fear.  This is done on a massage table draped and lasts approximately 50 minutes  –  $75/session using Young Living Essential Oils
****Book two sessions ahead on same day of therapy for $10 off/ session, This excludes Work Day Clinical Therapy services of $1/minute please****
Thank you for your interest in Cheryl and her services provided!
Enjoy the day. It is a gift!
If you are in a crisis please call to negotiate payment schedule.
To schedule an appointment please contact Cheryl at 3302685034.  All services by appointment only.
Updated 3-20-2017, subject to change