Shelly K. Valinttine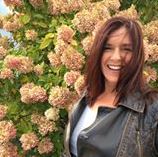 Shelly K. Valinttine, Master Practitioner & Trainer of Neuro Linguistic Programming and Time Line Therapy®, Bachelors of Clinical Hypnotherapy, Huna Initiate level 2, Melchizedek Method Ascension level 2, Certified WHY Coach
Developer: In Divine Balance
330-415-5199
indivinebalance@gmail.com
www.indivinebalance.com
What Shelly is about…
Shelly Valinttine is an Agent of Change literally, her passion is being a Change Specialist. Shelly guides people through transformation to create a better way to the live the life they are leading. Following the road less traveled, she brings a wealth of wisdom from the ancient cultures to cutting edge techniques in natural & alternative change. Shelly is a Transformation Coach, Change Specialist and Medicine Woman who has a holistic approach to life in all areas. Shelly is a wife and mother of two beautiful daughters and she has a love and calling to nature and travel.
Her studies of various healing techniques resulted in the development of The Core Evolution which is a process of coaching and healing modalities to bring conscious lasting change for anyone who seeks congruency in their life. A congruent life is a fulfilled life resulting in more happiness and peace. Shelly discovered a common theme no matter what area of life you are dealing with; health, relationship, career, etc., you must obtain the root cause at The Core of any situation to truly effect change. Shelly's deep spiritual connection enhances your sessions with support, compassion and understanding and her results oriented nature is an element to enhance your success!
The Core Evolution – 
Menu of Services
Restorative Frequency Music Treatment 
Frequencies tuned to a particular Hertz have restorative powers enjoyed in total relaxation with beautiful music!
Huna Energy Session
Energy Healing has been in practice for eons of time. The ancient Hawaiian healing is labeled Huna.   Huna utilizes the elements with symbology through an attuned initiate to flow specific energy the body understands. It can relieve symptoms and break through blocks stored in the body.  It also restore balance in the chakras as well as promotes peace and raises your vibration.
The Core Transformation Coaching 
Need guidance moving through a challenge in your life? More than just life coaching!
Halgorithm™ Session Discover the blueprint of your life thru the ancient science of Numerology.  Numbers hold a frequency and letters hold a numerical correlation.  Your birth date and name tells the divine story of you and how you navigate life and why.   Call if you have questions or would like to book a session. 330-415-5199
The Core Evolution™ Session 2-3 hours  This session is designed for you who wish to overcome challenges and/or behaviors and that have kept you stuck in repetitive patterns and wish to accelerate your growth and reduce your suffering.

Neuro Linguistic Programming (NLP) 
NLP is an art and a science of mind/body communication.
Neuro refers to your neurology; Linguistic refers to language; Programming refers to how that neural language operates. In other words, NLP is the language of your mind & body!
NLP is a powerful accelerated modality to restore unity and get the mind/body communication in sync and working together in harmony to increase choice & wholeness!
Shelly Valinttine Master NLP Practitioner & Trainer

Time Line Therapy™
Ever just feel stuck?  You know that you want to move forward yet you just can't figure out why you can't?
This potent modality is excellent for discovering the unconscious blocks to release stuck states and free you from the negative emotions preventing you from moving forward in your life!
Shelly Valinttine Master Time Line Therapy™ Practitioner
For more information, questions or to schedule your desired session contact Shelly at 330-415-5199 or email  indivinebalance@gmail.com

updated 1/15/2018; subject to change