Taj Leppla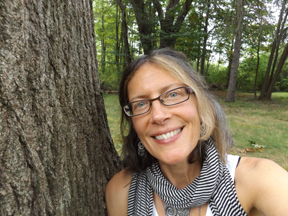 Taj Leppla MEd, Nature-Based Healing Arts Practitioner & Educator, Health Counselor, Iridologist
Owner:  Where Earth Meets Spirit Healing Arts and Nature Approved Health Remedies
joan@whereearthmeetsspirit.com
www.whereearthmeetsspirit.com
330-655-5454
Taj brings 30 plus years of holistic education and nature-based healing experience. She spent many years in the corporate world as a computer programmer/analyst and found that sitting indoors at a desk all day was not for her and, besides that, she knew she had more to offer. This discovery culminated in leaving her job and starting a part-time computer consulting business, which gave her freedom to spend more time in nature as well as the opportunity to pursue her true passion; the world of holistic and natural health and healing.
Taj has spent the last 20 years facilitating relaxation and meditation classes, leading distance healing circles, teaching Reiki certification classes, offering Reiki and other energy healing sessions and working on her own personal well-being and growth through energy healing, meditation, silent retreats, and conscious contact with nature.
Being a lover of the natural world and having a special appreciation for the plant kingdom, especially trees, Taj eventually realized that plants are an integral piece of her life and work. She knew she needed to know and experience more of these intelligent green beings. Therefore, she has spent the last several years focusing on and learning about plants from the realms of botany, ecology, herbalism, observation and experience, and learning to communicate with the plants themselves. Taj currently incorporates the energy of plants and other aspects of nature into her work and has found this addition brings a wonderful depth and presence to her offerings.
As nature has become one of Taj's greatest allies and teachers, she loves to help others deepen and expand their relationship with nature via healing sessions, classes and workshops. Her conviction is that most if not all of our problems stem from individual and global disconnection from the natural world, both within and without and–if we desire to move toward balance and harmony–our personal and collective healing must include a conscious reweaving of ourselves into the Web of Life.
Training and certifications:
IIPA Certified Comprehensive Iridologist
Warren Grossman School of Healing
Plant Spirit Healing
Health Counselor / Detoxification Specialist
Plant-Based Nutrition
Shamanic Practitioner
Natural Attraction Ecology Facilitator
Healing Touch for Animals
Raphaelite Work Practitioner
Light Journey Guide
Reiki Master / Teacher
Private & Small Group Relaxation & Meditation Instruction
Health Investment:
Initial Healing Session (first time clients) ~ $95 for approximately 90 minutes (plus sales tax)
~involves careful assessment and conversation, energy healing session, and custom made essence to take home
Follow Up Sessions (returning clients) ~ $40 for 30 minutes or $60 for an hour (plus sales tax)
Taj is available for speaking engagements and classes on plant communication and the ecological importance of native plants.